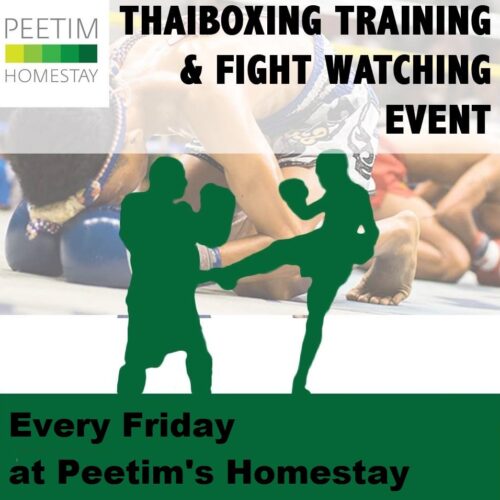 Thai Boxing Training! Every Friday!
Experience the real Thai Life and culture at Peetim's Homestay and have the most memorable journey!

About the Thai Boxing class:

Why make an effort in going to boxing centers if you can learn it from home? Learn Thai boxing from champions at the luxury of our home. The class will give you access to learn some Thai boxing kicks and moves.
The program
Here is the program for Fridays:
2 pm – Arrival at Peetims Homestay in Singburi
3 pm – Thai Boxing class from champions
5:30 pm – Dinner together
7pm – Going back to Bangkok or stay for few drinks over night!
About Thai boxing fight: Our friend is the champion of Bangkok 2014. He will have a bit of a fight every month and we can go together and support him! Its a awesome expirience to watch Thaiboxing togther and it is for FREE for Peetim's guests!
Price: 
The thaifight on friday and the thaiboxing training is for FREE. If you wanna have Lunch or Dinner, its cost 150 THB per meal. Drinkingwater is included! The ticket for Thaiboxing fight cost 200 THB for the men and 100 THB for the Women but for us its for FREE. Taxi cost to the fight we will share as well 50-80 THB each.
The drinks are not included: We can go together in buying the alcohol in a store close by. For everyone who wants to stay at the homestay on Friday or Saturday can have a VERY NICE dorm bed for only 400 THB (12$) /night, Breakfest included.
How to join the event?
You can easily get to our place by a bus for only 120 Baht from Bangkok. Buses are leaving the Mo Chit bus station and Victoria Monument station every 30 minutes, daily. If you want, we can also meet on Friday at the Mo Chit bus station and go together by a bus to Singburi. Everyone who wants to go back to Bangkok on the same day, can take the last bus leaving at 7 pm.
We have a special price of 400 TBH/night just for you (100THB less than the normal price). But you are more than welcome to stay one more night at Peetim's Homestay so we can have few drinks together!
Watch the videos about our homestay