Who we are: A traditional Thai Homestay that helps Kids in our community. Be part of it – be a Volunteer!
The homestay includes visits to see old Khmer temples and visits to the regions around Sing Buri and Lop Buri. The region is famous for its old Kymer temples, farms and local Thai pottery whilst the famous Monkey Temple is a just few kilometers away from Sing Buri.

The volunteer activities you can get involved in are intended for you to see deeper into how Thai people live. Along with your involvement in the local schools, you could also be invited to help out at weddings, local festivals and even a Thai funeral.

In your own time you can also choose to go horse riding or elephant riding and you can also visit the monkeys at the monkey temple. You can swim and go rafting at the waterfall, climb up the mountain and visit the floating market.  You can immerse yourself in traditional arts including Thai boxing where you can get lessons for free, clay pottery, meditation and Thai cooking at the homestay. These activities will give you a good insight into local life in Thailand.

There is even a Thai culture show and Thai karaoke available for you to enjoy your evenings like a thai local.

As a final surprise it's also the only place in Thailand with fish ice cream and fish cake!

This is a wonderful way to see the 'real' Thailand and immerse yourself into local Thai culture. It is a way to put some value back into the local community on your trip and experience something that is truly special and full of surprises!
Visit the province of Singburi, and enjoy a traditional THAI life experience in our gorgeous Homestay.
I you are a tourist or a local resident, willing to visit the non-touristy, yet gorgeous, province of Singburi you are welcome to visit and stay with us at Peetim's Homestay! We welcome everyone with open arms, whether your are a solo traveler or a  group of people, we are happy to meet host you and hope you will have an unforgettable stay! During your stay, if you are interested, you will be able to participate to our volunteer program : teach English to the kids and litte monks and play with them! If you are more interested in discovering the region of SingBuri, or do some activities, we will be able to guide you and arrange excursions for y
Cooking Class
If you're tired of the taste of what you're eating, reward yourself with a new kind of dish. Learn traditional Thai cooking in a breeze for 2 hours from our Cooking Class.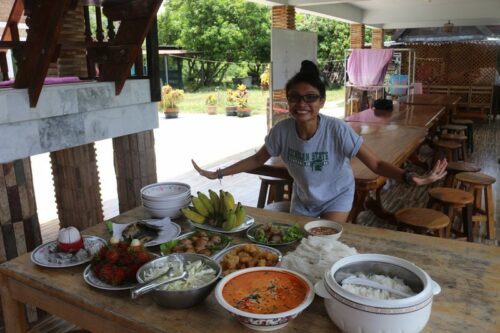 Fishing
If you want to experience fun in fishing with your friends, try the One Day Fishing package for only 600TBH. Get a chance to catch a lot of big catfish!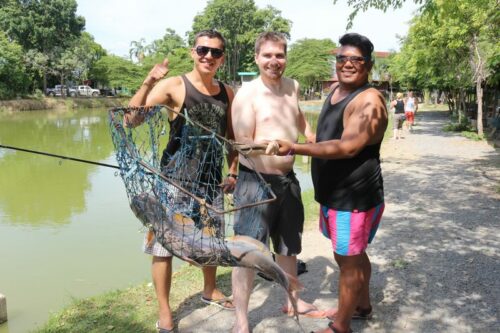 Monkey Temple
Get a chance to enjoy and play around with the temple's jumping monkeys for 2-hour guide. Lopburi, where the Monkey Temple is located, is just 15km from our home.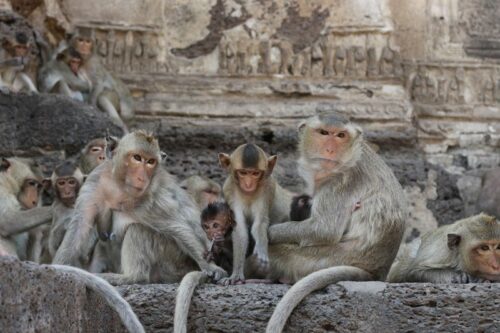 Ayutthaya Day Trip
Experience a splendid 8-hour tour with Thailand's architectural and art heritage. Get to visit 3 ancient temples plus the well-known flooded marked.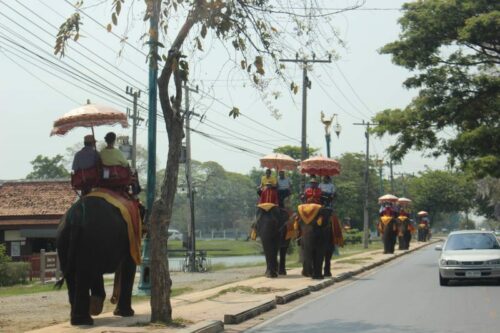 Bull Riding
Visit the Agriculture and Technology College with many farm animals, and have an amazing buffalo ride!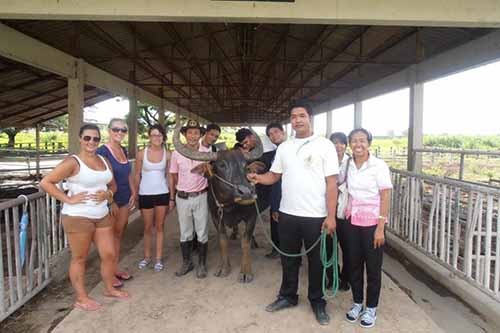 Shadow Museum
If you can't get enough excitement in visiting just the temple alone. Visit the unique shadow puppet museum. A 4-hour tour will let you see all 300 playable shadow puppets in Nang Yai Museum.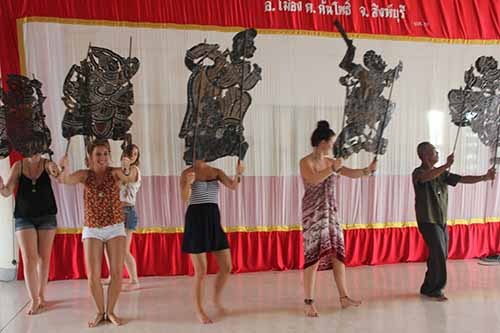 Singburi Highlights
This tour will give you and your family a super memoir of what can be seen in the Central Thailand Province. Get to explore Singburi,  amazing Temple and majestic Golden Lying Buddha.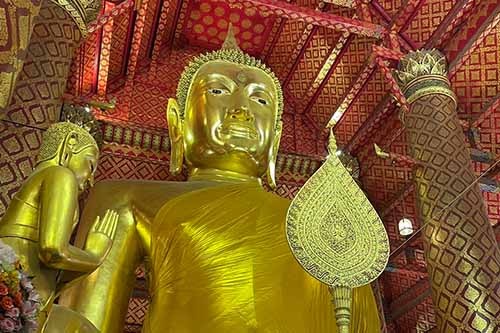 Meditation
Lots of negative thoughts in mind? To achieve happiness and enlightenment, meditate and exercise your mind to reduce propensity of negativity. Get a chance to learn meditation techniques for 1-3 hours from a Buddhist monk.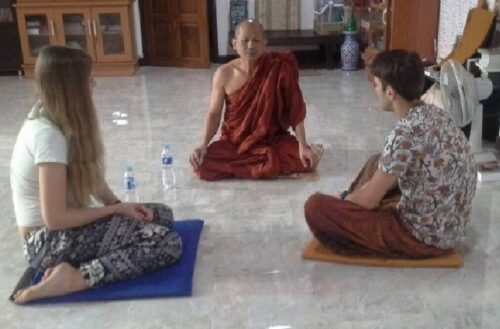 Learn Thai Massage
Want to learn a new skill? Learn Thai Massage! Get a chance to pamper your family in learning the top healing massage technique within 4 hours. You also can get a Thaimassage at home.
Military Camp
If you are into unique yet fun experience, try our 7-8 hour Military Camp tour. From a starting package of 1000TBH, Get a chance as Parkour, and do Bungee jumping  or zipline with Thai soldiers.
Stay at Peetim Homestay and have an unforgettable time!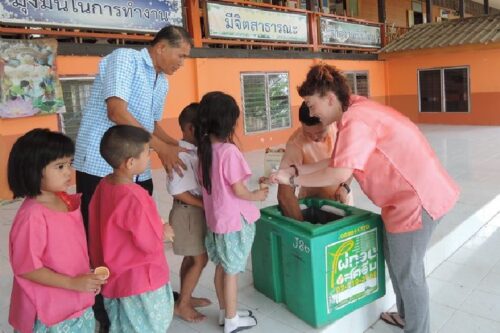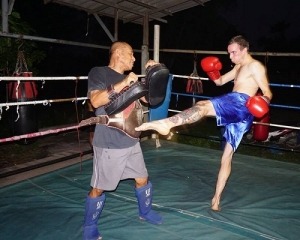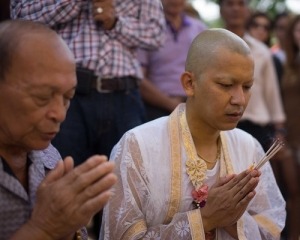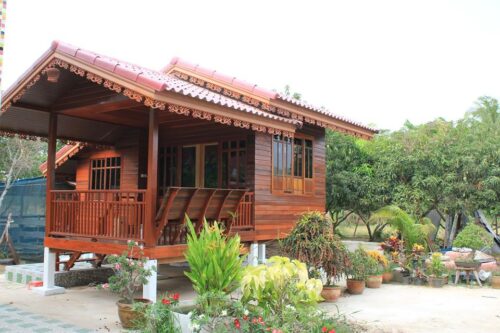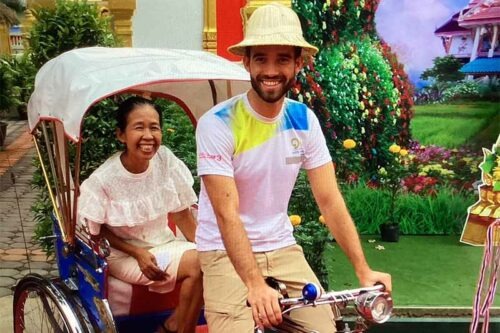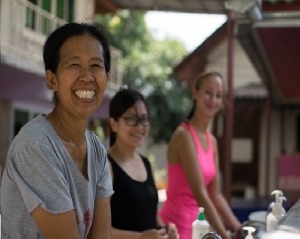 What others say about staying with us

Genuine
★★★★★
"
A genuine Thai experience. Great place for people of any age. Keep an open mind and willingness to go with the flow and you will get the most out of PeeTim's. 🙂
"
Incredible hidden place!
★★★★★
"
Wow, from the very first moment Peetim made me feel so welcome and she and the kids gave me so much warmth and love!! It's a wonderful hidden homestay, surrounded by beautiful nature, authentic Thailand with no tourists, just incredibly nice locals and a some other backpackers. It's incredible to see how much love Peetim gives to all the people surounding her. She organized Muay Thai Box training for me, sended us to the bad cave (must see), monkey temple and to a Thai birthday which was awesome!! And the opertunity to teach kids English at their school or at Peetim's place during weekends was great. So many smiles, it was an increadible experience! I will never forget Peetim's everlasting smile and would love to come back there some day <3
"
Treated like kings and queens
★★★★☆
"
I was expecting to be devoting my time, which I did do, but I couldn't believe the love we received back as well. Every night, peetim cooked beautiful Thai meals for us. She organized outings so we still got to explore Thailand. There's a beautiful rooftop if you like to have a rooftop beer. This was the nicest facility I stayed in my whole 7 months of backpacking. The kids are so amazing to work with. They are so grateful and respectful. You will never forget this experience. Come for one day or one year. Whatever suits you. But just be sure not to miss this experience.
"
-
Janelle & Germano, Canada and Indonesia
Thailand's best kept secret!
★★★★★
"
I got to see the real Thailand on my two stays at Peetim Homestay in 2011 & 2015. The welcome is as warm as the outside temperature, The smiles are as big as Bangkok, The food is the BEST you will eat in Thailand. I never thought I would enjoy teaching so much but the students are really enthusiastic and eager to learn and really glad that you are with them. I got to see the real Thailand on my stays at Peetim Homestay and take back memories that will stay with me forever, Peetims enthusiasm,energy and devotion to her community is amazing and it was a real honour for me to stay with her & Peenoy both times. It was an fantastic experience that I would definitely recommend to anybody travelling to Thailand."
"
My favourite place!
★★★★★
"
After the first few seconds at peetims homestay I knew that I will definitely come back. It was love at first sight. A warm atmosphere surrounded by beautiful nature. It s a place where I found inner peace and a lot of wonderful people. Peetim was very caring and the food was fantastic! We even got a taste of cooked cobra. If you want to know the real thai life and culture without the annoying tourist stuff this is the place you should go. Thai Wedding, Military Camp, Meditation with a monk, Thai Massage, Thai boxing to name just a few events. It was very clean, the beds were comfi and every room had aircon. After staying there for the weekend I came back for another week to volunteer. It was the experience of my life and I m happy that I got this opportunity. Thank you Peetim for beeing such a good host. I will definitely come back again!
"
Very nice experience of Thai way of living.
★★★★★
"
Sabai dee Kha / Namaste to All, It has been one of the most amazing 24 hours spent with few very unknown people at Peetim's homestay. We all from all different countries, but with same thinking of travelling/conquering the world.We all were very selfish to attend the Thai wedding but Luck stopped all of us to reach at the event on time. Nice Music theatre we created in the SUV we were driving to reach to wedding....Amazing Monkey Temple experience.Amazing down to earth people. Amazing ride to Buddha monastery in Royal Thai Army's Hummer Trucks.Eating Lunch at Army soldier soldier camp.Meditation lesson by Buddha, Thai Message, Thai Dinner after that riding a Thai Motorcycle to buy party stuff for the Party that never stopped till 6 a.m. After that quickest shower of my life of 2 minutes and running and rushing on motorcycle to catch the van to to go back to Bangkok to catch another flight.Overall very nice experience at Peetim's homestay - just did not got time for Pool Party and Sleeping in very beautiful beds (was busy in partying and talking with other guests and teaching Bollywood style Dancing and Music.. hahah a.. my fault cannot blame anyone else...hahhaa). Eugene I am very thankful to you to introduce me to Peetim and her family and homestay, if in future I get a chance to come again , I will inform you to book a bed for me in advance when I buy my flight for Thailand. Cheers, Jitendra,India
"
Get in touch with us by filling out the following form: