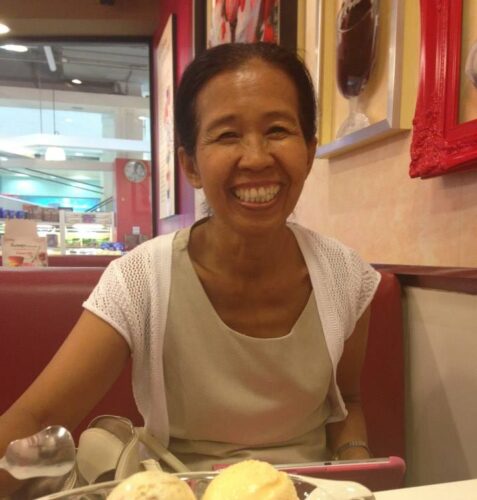 Despite being from Singburi, you speak pretty good English. Where did you learn it?
I learned how to speak English when I was in university doing my bachelors.
Which university did you graduate from?
I graduated from Ratchapat university in Bangkok.
How did you become an English teacher?
After I finished college, there was a government competition to search for English teachers. I won the competition and started teaching high school English.
How long have you been teaching English?
I have been teaching English since 1984, so coming to 40 years soon. I started teaching in 1 school but now I teach at more than 10.
When and how did you get the idea to start the home stay volunteer program to teach English to kids?
12 years ago, a friend of mine used to teach at a big high school that had native English speakers to teach English. I wanted them for my school too but my school could not afford the high salary that was required so I got the idea to invite volunteers to come live with me and teach English to kids.
How hard was it to start the program?
When I first started, there was no Facebook so I had to personally email potential volunteers and invite them. My first volunteer was an American student. I had volunteers only for my school during the first year but gradually, the directors from other schools requested me to send volunteers at their schools too so now the volunteers can go to more than 10 schools.
How do you finance this program?
I save up my salary and receive donations from time to time. However, it is not enough most of the time so I charge a small fee from the volunteers so that I can keep the program running.
Why is English so important?
This world is globalizing and English is becoming a very basic skill. The students need it to get higher education and to be able to compete in the job market.
How many students do you have and what is their average age?
The number of my student range from 100-150. Their ages range from 3 years to 15 years old.
What is the most rewarding thing about your job?
It is when the kids become successful due to the skills they got from me. It is always amazing to see when a son or a daughter of a poor farmer becomes a nurse or a soldier because they had the chance for higher education. When the kids and their families have a higher quality of life because of their improved income, it makes me the happiest.
What is the best part of working with volunteers?
Working with volunteers can have many advantages. I have only travelled to border countries like Laos and Cambodia as its more economical so most foreigners I meet are through this program. There is a lot of sharing ideas and sharing culture. Infact, I got the idea of teaching the poor kids from a volunteer who wanted to teach during the weekends. Working with volunteers is also wonderful because I get to witness genuine goodness and kindness from all over the world.
What is your dream for the future?
My dream for the future is to have more volunteers with a successful program so that we can help the children reach their full potential. I believe that if we help the kids, we help the entire community. When children become highly educated and get good jobs, that is when this community will improve its quality of life.
Who we are: A traditional Thai Homestay! We help the Kids in our community. Be a part of it. Be a Volunteer!
About our city "Singburi"
Singburi is the capital town of Sing Buri Province, where it lies around 135 km north of Bangkok, along the Chao Phraya River. It has a population of around 20,000, and the most important economic sector is agriculture, especially rice cultivation.
It's a very quiet place that remains undiscovered by most tourists; however, it does have its share of local attractions such as few Buddhism temples, a huge Buddha statue, the famous monkey temple and museums.
Due to the wonders of nature that still needs to be explored in Sing Buri province, tourists and backpackers must include this area on their must-go-to list, as it is the perfect place to escape from the noise, the crowd and the pollution of the city. It is quite easy to get here from Bangkok, as it's only about 2 hours away by public bus and about 1hr 30 minutes by car.
Another reason why Sing Buri Province is worth a visit is because of the warm hearted and always smiling locals! People in Sing Buri Province are believed to be the happiest people in all of Thailand! Aside from Sing Buri's beautiful green landscape, tourists can also explore the old capital of Thailand – famous as it holds a lot of history – called Ayutthaya, which is just an hours' drive from Singburi.
From Bangkok by bus
1) Drive to Mochit Bus Terminal The Mochit Bus Terminal is the largest, the busiest and covers the northern and north-eastern part of Thailand. To get there, get off at the BTS Mochit or MRT Chatuchak Park and take a 10 minute taxi ride to the bus terminal.
2) Go to counter number 38 or 39
3) Buy the ticket to Singburi (This bus is going every 30 minutes in the daytime)
4) Take the bus at the platform number 127&128. It takes around two hours from Bangkok to Singburi.
5) When you arrive to Singburi bus station, please call us. The price for the bus ticket is 120 Bath. We will pick you up.
From Bangkok by minivan
1) The mini van station at the MTS Victory Monument and show this to the taxi driver:
"ขื้นรถตู้ที่อนุสาวรีย็ชัยสมรภูมิ ไปที่ราชวิถีชอย3 ชื้อต้วไปสิงห็บุรี ราคา 120 บาท"

2) Go to Ratvithee Soi 3
3) Ticket to Singburi is 120 baht. (This mini van is going every 30 minutes in the daytime)
4) It takes around two hours from Bangkok to Singburi.
5) When you in the minivan please give us a call. The driver can stop near our house. We will pick you up.
Stay at Peetim Homestay and have an unforgettable time!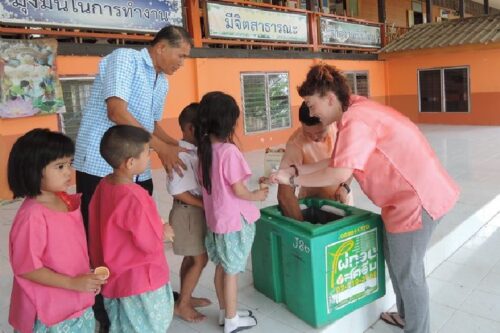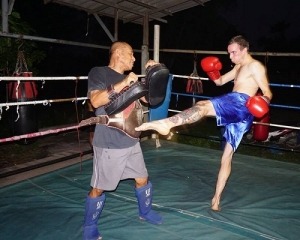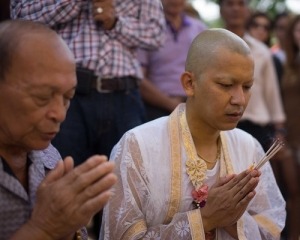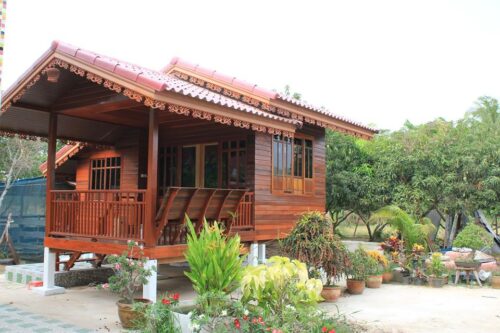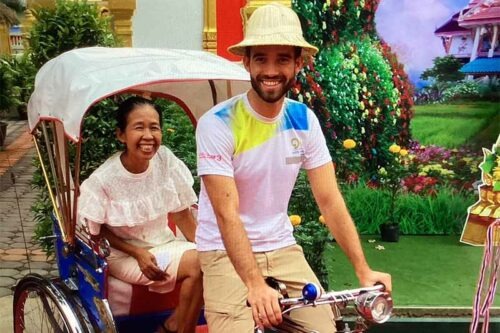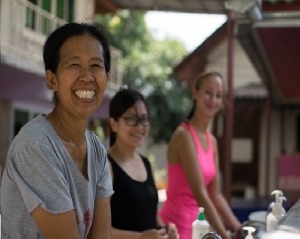 What others say about staying with us

Genuine
★★★★★
"
A genuine Thai experience. Great place for people of any age. Keep an open mind and willingness to go with the flow and you will get the most out of PeeTim's. 🙂
"
Incredible hidden place!
★★★★★
"
Wow, from the very first moment Peetim made me feel so welcome and she and the kids gave me so much warmth and love!! It's a wonderful hidden homestay, surrounded by beautiful nature, authentic Thailand with no tourists, just incredibly nice locals and a some other backpackers. It's incredible to see how much love Peetim gives to all the people surounding her. She organized Muay Thai Box training for me, sended us to the bad cave (must see), monkey temple and to a Thai birthday which was awesome!! And the opertunity to teach kids English at their school or at Peetim's place during weekends was great. So many smiles, it was an increadible experience! I will never forget Peetim's everlasting smile and would love to come back there some day <3
"
Treated like kings and queens
★★★★☆
"
I was expecting to be devoting my time, which I did do, but I couldn't believe the love we received back as well. Every night, peetim cooked beautiful Thai meals for us. She organized outings so we still got to explore Thailand. There's a beautiful rooftop if you like to have a rooftop beer. This was the nicest facility I stayed in my whole 7 months of backpacking. The kids are so amazing to work with. They are so grateful and respectful. You will never forget this experience. Come for one day or one year. Whatever suits you. But just be sure not to miss this experience.
"
-
Janelle & Germano, Canada and Indonesia
Thailand's best kept secret!
★★★★★
"
I got to see the real Thailand on my two stays at Peetim Homestay in 2011 & 2015. The welcome is as warm as the outside temperature, The smiles are as big as Bangkok, The food is the BEST you will eat in Thailand. I never thought I would enjoy teaching so much but the students are really enthusiastic and eager to learn and really glad that you are with them. I got to see the real Thailand on my stays at Peetim Homestay and take back memories that will stay with me forever, Peetims enthusiasm,energy and devotion to her community is amazing and it was a real honour for me to stay with her & Peenoy both times. It was an fantastic experience that I would definitely recommend to anybody travelling to Thailand."
"
My favourite place!
★★★★★
"
After the first few seconds at peetims homestay I knew that I will definitely come back. It was love at first sight. A warm atmosphere surrounded by beautiful nature. It s a place where I found inner peace and a lot of wonderful people. Peetim was very caring and the food was fantastic! We even got a taste of cooked cobra. If you want to know the real thai life and culture without the annoying tourist stuff this is the place you should go. Thai Wedding, Military Camp, Meditation with a monk, Thai Massage, Thai boxing to name just a few events. It was very clean, the beds were comfi and every room had aircon. After staying there for the weekend I came back for another week to volunteer. It was the experience of my life and I m happy that I got this opportunity. Thank you Peetim for beeing such a good host. I will definitely come back again!
"
Very nice experience of Thai way of living.
★★★★★
"
Sabai dee Kha / Namaste to All, It has been one of the most amazing 24 hours spent with few very unknown people at Peetim's homestay. We all from all different countries, but with same thinking of travelling/conquering the world.We all were very selfish to attend the Thai wedding but Luck stopped all of us to reach at the event on time. Nice Music theatre we created in the SUV we were driving to reach to wedding....Amazing Monkey Temple experience.Amazing down to earth people. Amazing ride to Buddha monastery in Royal Thai Army's Hummer Trucks.Eating Lunch at Army soldier soldier camp.Meditation lesson by Buddha, Thai Message, Thai Dinner after that riding a Thai Motorcycle to buy party stuff for the Party that never stopped till 6 a.m. After that quickest shower of my life of 2 minutes and running and rushing on motorcycle to catch the van to to go back to Bangkok to catch another flight.Overall very nice experience at Peetim's homestay - just did not got time for Pool Party and Sleeping in very beautiful beds (was busy in partying and talking with other guests and teaching Bollywood style Dancing and Music.. hahah a.. my fault cannot blame anyone else...hahhaa). Eugene I am very thankful to you to introduce me to Peetim and her family and homestay, if in future I get a chance to come again , I will inform you to book a bed for me in advance when I buy my flight for Thailand. Cheers, Jitendra,India
"
Watch the videos about our homestay