Who we are: A traditional Thai Homestay that helps Kids in our community. Be part of it – be a Volunteer!
Our homestay is located in the wide open and beautifully natural countryside of Singburi in Central Thailand, about 135Km north of Bangkok and about 1.5 hours away from the main city. Central Thailand is quite untouched by travelers as it mainly consists of local farms and small industries, so you will have the benefit of visiting the 'real' traditional Thailand.

Our homestay is specifically organized by us – a local Thai family who also are involved with local Thai schools in teaching the children English language. You will live in our traditional Thai property with your own room, or in one of the dorm rooms. Since our homestay offers one-of-a-kind experience, you will be able to enjoy your excursions and volunteer teaching programs (personally arranged by us) at the same time visitors and volunteers.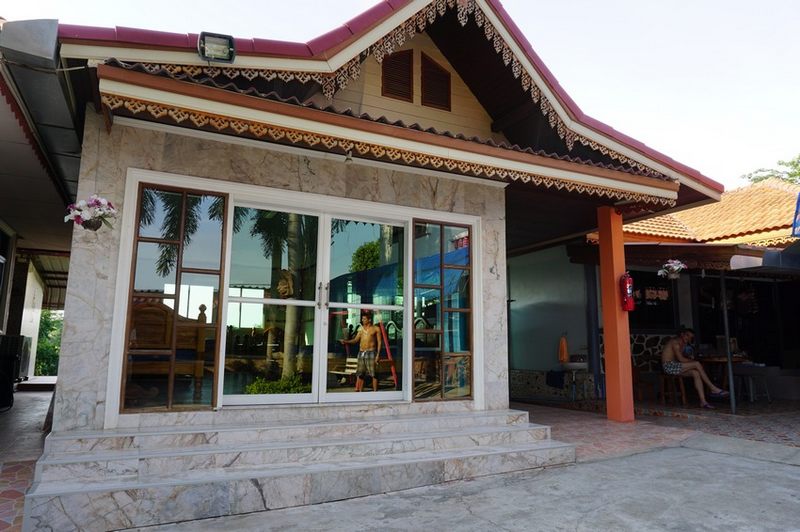 Our homestay have a range of single, double and dorm rooms, and there are bathrooms near every room as well. In short, our homestay offers a very comfortable place to live in, wherein one can get whole new experiences but still gets home-like treatment.
Our homestay is living with its goal in providing "Home away from home" experience to visitors and volunteers.
Our Homestay & Schoolrooms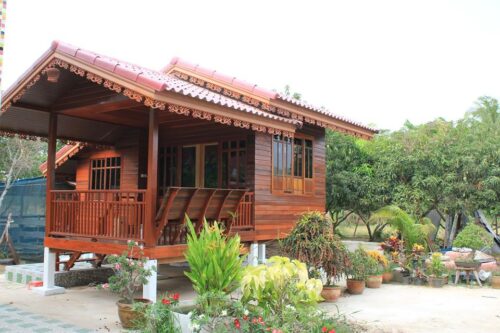 Stay in a double bed room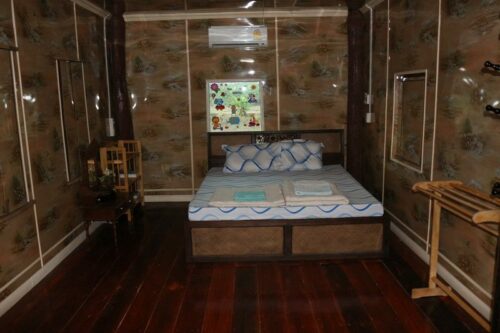 Stay in one of our dorm rooms
About Peetim's Volunteering Program in Singburi, Thailand:
If you are interested in volunteering with us, there are many schools around our Homestay which needs volunteers, wherein you will also teach young monks at orphanage schools, Agriculture College or at other local schools. All schools in Singburi welcomes volunteers with open arms while students of all ages here are grateful to receive English lessons, as well as cultural exchange from foreign teachers. After school,  volunteers will also have an opportunity to visit unique and wonderful places in the beautiful province of Singburi. 
The volunteers will have a There are variety of places volunteers can explore, such as amazing looking temples, big lying Buddha image in Wat Pranon (Singburi town), the famous monkey town (Lopburi) etc. If you rather want to spend your time in local Thai sports and fitness, you can try Muai Thai (kick boxing lessons are given by a local champion) or meditation (taught by a monk). You can also learn Thai cooking, get Thai massage, you can also use one of the available bikes or scooters or even play football with the locals. There are lots of places and things to do and explore. Come and be a volunteer! 
Working and living together with the locals is the best way of getting a deeper understanding of any culture, as Thai lifestyle is very different from your everyday life at home. Flexibility, as well as tolerance and patience, are needed to succeed as a foreign teacher. Experience teaching while having fun, and enjoy the thrill of exploring unique and wonderful places. Feel free to contact us! We are happy to give more details about our volunteering program.
At the end of your homestay

,

you will receive a certificate

which states that

you successfully completed an English Teaching Project in Thailand

. The certification includes

reading, writing and conversational skills at primary school level (five to twelve year olds)

,

signed by the Director of the local

primary school.
Stay at Peetim Homestay and have an unforgettable time!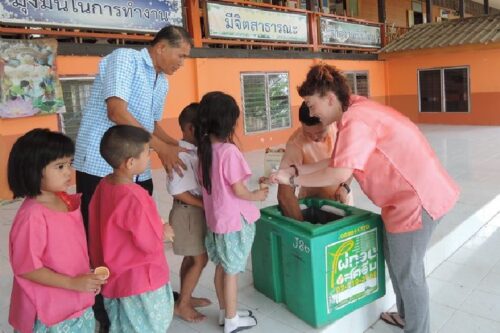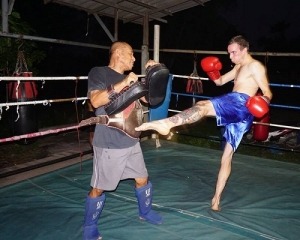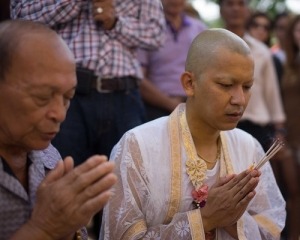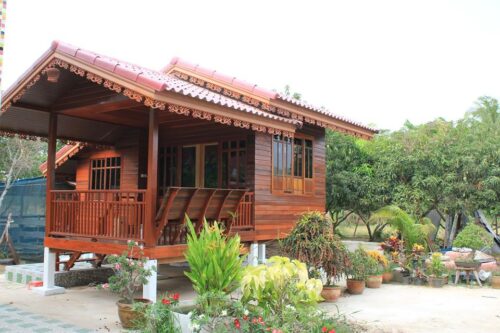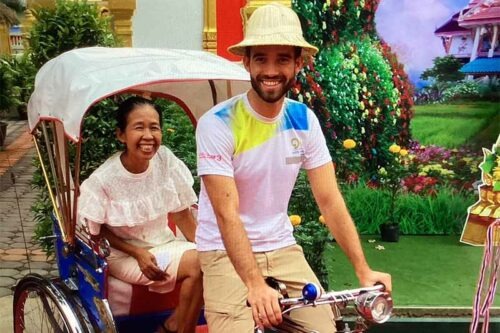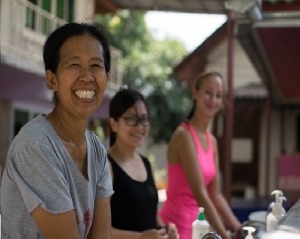 What others say about staying with us

Genuine
★★★★★
"
A genuine Thai experience. Great place for people of any age. Keep an open mind and willingness to go with the flow and you will get the most out of PeeTim's. 🙂
"
Incredible hidden place!
★★★★★
"
Wow, from the very first moment Peetim made me feel so welcome and she and the kids gave me so much warmth and love!! It's a wonderful hidden homestay, surrounded by beautiful nature, authentic Thailand with no tourists, just incredibly nice locals and a some other backpackers. It's incredible to see how much love Peetim gives to all the people surounding her. She organized Muay Thai Box training for me, sended us to the bad cave (must see), monkey temple and to a Thai birthday which was awesome!! And the opertunity to teach kids English at their school or at Peetim's place during weekends was great. So many smiles, it was an increadible experience! I will never forget Peetim's everlasting smile and would love to come back there some day <3
"
Treated like kings and queens
★★★★☆
"
I was expecting to be devoting my time, which I did do, but I couldn't believe the love we received back as well. Every night, peetim cooked beautiful Thai meals for us. She organized outings so we still got to explore Thailand. There's a beautiful rooftop if you like to have a rooftop beer. This was the nicest facility I stayed in my whole 7 months of backpacking. The kids are so amazing to work with. They are so grateful and respectful. You will never forget this experience. Come for one day or one year. Whatever suits you. But just be sure not to miss this experience.
"
-
Janelle & Germano, Canada and Indonesia
Thailand's best kept secret!
★★★★★
"
I got to see the real Thailand on my two stays at Peetim Homestay in 2011 & 2015. The welcome is as warm as the outside temperature, The smiles are as big as Bangkok, The food is the BEST you will eat in Thailand. I never thought I would enjoy teaching so much but the students are really enthusiastic and eager to learn and really glad that you are with them. I got to see the real Thailand on my stays at Peetim Homestay and take back memories that will stay with me forever, Peetims enthusiasm,energy and devotion to her community is amazing and it was a real honour for me to stay with her & Peenoy both times. It was an fantastic experience that I would definitely recommend to anybody travelling to Thailand."
"
My favourite place!
★★★★★
"
After the first few seconds at peetims homestay I knew that I will definitely come back. It was love at first sight. A warm atmosphere surrounded by beautiful nature. It s a place where I found inner peace and a lot of wonderful people. Peetim was very caring and the food was fantastic! We even got a taste of cooked cobra. If you want to know the real thai life and culture without the annoying tourist stuff this is the place you should go. Thai Wedding, Military Camp, Meditation with a monk, Thai Massage, Thai boxing to name just a few events. It was very clean, the beds were comfi and every room had aircon. After staying there for the weekend I came back for another week to volunteer. It was the experience of my life and I m happy that I got this opportunity. Thank you Peetim for beeing such a good host. I will definitely come back again!
"
Very nice experience of Thai way of living.
★★★★★
"
Sabai dee Kha / Namaste to All, It has been one of the most amazing 24 hours spent with few very unknown people at Peetim's homestay. We all from all different countries, but with same thinking of travelling/conquering the world.We all were very selfish to attend the Thai wedding but Luck stopped all of us to reach at the event on time. Nice Music theatre we created in the SUV we were driving to reach to wedding....Amazing Monkey Temple experience.Amazing down to earth people. Amazing ride to Buddha monastery in Royal Thai Army's Hummer Trucks.Eating Lunch at Army soldier soldier camp.Meditation lesson by Buddha, Thai Message, Thai Dinner after that riding a Thai Motorcycle to buy party stuff for the Party that never stopped till 6 a.m. After that quickest shower of my life of 2 minutes and running and rushing on motorcycle to catch the van to to go back to Bangkok to catch another flight.Overall very nice experience at Peetim's homestay - just did not got time for Pool Party and Sleeping in very beautiful beds (was busy in partying and talking with other guests and teaching Bollywood style Dancing and Music.. hahah a.. my fault cannot blame anyone else...hahhaa). Eugene I am very thankful to you to introduce me to Peetim and her family and homestay, if in future I get a chance to come again , I will inform you to book a bed for me in advance when I buy my flight for Thailand. Cheers, Jitendra,India
"
Watch the videos about our homestay